Demon Dayz: Gorillaz
Dreamland, Margate Kent.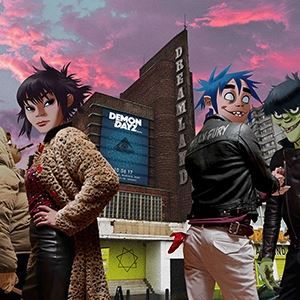 Under 16s must be accompanied by an adult. We cannot issue refunds to under 16s who are not accompanied by an adult.
More information about Demon Dayz: Gorillaz tickets
Doors open for priority entry: 13:00pm
Doors open for general admission: 14:00pm

Last Entry: 21:00pm

Please note there will be no re-admission.

Disability tickets are available to purchase via AXS on 08448 24 48 24. Calls Cost 7p Per Minute Plus Your Phone Company's Access Charge.

Contact Centre Hours:
Monday - Friday 8:30am - 8pm
Saturday 8:30am - 6pm
Sunday 9am - 6pm


Event info:

Customer Welfare and First Aid provision
Welfare and First Aid provision will be available at the event and operated by our trained and experienced staff. Both services are open during event hours and all visits are logged and recorded.

Food and Drink
We have a range of bars and food traders at the event. If you have a certain dietary requirement, several of our food vendors will offer suitable meals, but these may not be suitable for visitors with allergies.

Toilets
There will be a considerable number of toilet facilities on site

Event Restrictions & Prohibited items:

No food or drink is permitted to be brought into the event, with the exception of water in unopened plastic containers of up to 500ml, and baby food where not in glass containers. There are a wide variety of licensed bars and catering open throughout the event, as well as free water points.

If you are lucky enough to look under 25, we may ask you to prove your age when entering the event or when attempting to buy alcohol as part of our Challenge 25 Alcohol Policy.

Any one of the following is considered an acceptable form of ID:
1. Passport (not a photocopy). Foreign passports are acceptable if in suitable condition and include a photograph.
2. Full or provisional photo card driving license issued by the DVLA.
3. Proof Of Age Card - The card must be part of the PASS scheme and carry their hologram.

If you are under 18 you are committing an offence if you attempt to buy alcohol. Similarly, anyone purchasing alcohol for someone under 18 is committing an offence.

- Seating
Chairs, seats, shooting sticks and tables, are not permitted at concert events for safety reasons. THE CONCERT EVENT IS A STANDING SHOW

- Animals
Animals, with the exception of assistance dogs, are not permitted at any time on concert days.

- Cigarettes and Smoking
Smoking cigarettes (or electronic cigarettes) is not permitted in indoor bars and venues. Please dispose of your cigarette butts responsibly

- Behaviour
Illegal and antisocial behaviour will not be tolerated and will lead to ejection from the event. For the safety of all our visitors, crowd surfing and moshing are prohibited.

- Prohibited Items
In order to facilitate the security, safety and comfort of all patrons, the Site reserves the right in its reasonable discretion to conduct security searches of persons, clothing, bags and all other items on entry and exit and to confiscate items which may cause danger or disruption to the Event with no refunds (please note that we are not responsible for any prohibited items or other items that we deem inappropriate or unsafe that are confiscated).

- Large umberellas
- Chairs, stools & seat sticks
- Dangerous or hazardous weapons / items
- Flags, banners and poles
- Glass
- Chinese lanterns
- Fire of fireworks
- Bicycles, skateboards & scooters
- Selfie sticks
- Spray cans
- Air horns, klaxons or similar items capable of making loud noise
- Laser pens
- Gas Canisters
- Hand held communication devices such as radios, radio jammers/scanners and the like
- Glass (of any kind)
- High Viz
- Suitcases & large rucksacks / bags
- Illegal substances & new psychoactive substances "legal highs"
- Professional Cameras, go-pro's, video cameras & selfie sticks
- Signs or inappropriate branded items
- Any other items which we consider to be unsafe or pose a risk to public safety and/or security;

Anything bigger than a canvas shopping bag / overarm bag are prohibited. Note there are no cloakroom facilities at the event.

- New psychoactive substances / so-called 'legal highs' are strictly forbidden at the event and following the introduction of the Psychoactive Substances Act on 26 May 2016, could result in penalties for possession or supply.

- Photography
Unauthorised professional photography or filming equipment is strictly prohibited. Your bags will be searched upon entry to the event and cameras will be permitted at the security team's discretion, so if in doubt don't bring it!

GENERAL INFO
- Video and Sound Recordings
Please note that film cameras may be present at the Event. By entering the Event and/or purchasing Tickets, ticket holders consent to filming and sound recording (which may include you as a member of the audience) and its use in distribution (commercial or otherwise) without any payment.

- CCTV
A CCTV system is in operation across the whole event site for everyone's safety and wellbeing. The scheme is controlled by Dreamland.