Dreamland Proms: BBC Big Band And Claire Martin
Scenic Stage - Dreamland Margate, Kent.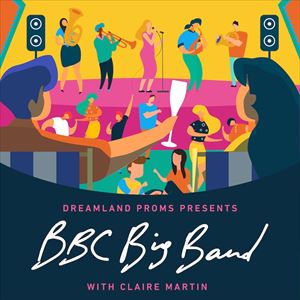 Under 16s must be accompanied by an adult. We cannot issue refunds to under 16s who are not accompanied by an adult.
Some or all of the items for this event require you to enter a promotional code.
Please enter your details below to buy tickets.
More information about Dreamland Proms: BBC Big Band And Claire Martin tickets
Summer sounds don't come much bigger than this...

Indulge in the very best in big band, jazz and swing at the first ever Dreamland Proms on Saturday 15th June with the internationally renowned BBC Big Band and jazz singer Claire Martin OBE.

Widely regarded as the world's leading and most versatile orchestras, The BBC Big Band consistently delights audiences old and new through their radio broadcasts and live performances. Stalwarts of the Royal Albert Hall, the Proms In The Park at Hyde Park and numerous festivals, the band is best known for its show Big Band Special on BBC Radio 2 as well its appearances on BBC Radio 3's Jazz Line Up.

With conductor Barry Forgie at the helm and featured vocalist Claire Martin OBE leading the troops at Dreamland in June, the show will delight for all ages, mixing the nostalgia of the jazz age and big band era with modern classics and pop culture.

Guests can either choose a £15 ticket with access to the park and all rides, or upgrade to a deck chair seat in the Golden Circle or a full VIP package and Champagne supper.

Laze on the grass and let the sounds of the beloved BBC Big Band wash over you this summer.

In the spirit of community and the true essence of an outdoor proms - we are wavering our no food** on park rule and inviting everyone to bring a dish***, pack a picnic or snack or a homemade sarnie! If you'd rather travel light we have a great range of warming street food to see you through the evening.

Portable camping chairs that fold flat or to a smaller size will be permitted on site.


The BBC Big Band appear at Dreamland Margate on Saturday 15th June at 7.30pm. Tickets are from £15 plus booking fee, with limited Dreamland Member tickets, Golden Circle and VIP packages available.


**Please note, alcohol will not be permitted into site. Bars will be available on park.
***Please note, food and non-alcoholic drink will only be permitted in non-glass containers. If you are bringing cutlery, only picnic cutlery will be allowed (no sharp knives please!).


Please note that this event does not take place during the park's standard opening hours. If you wish to attend the park during the day (ahead of the show), you will need to leave the park at closing time and re-enter for the event. You need to use your event ticket to re-enter.