Dreamland Variety: Silver And Sequins
Scenic Stage - Dreamland Margate, Kent.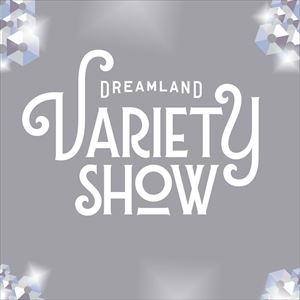 Under 14s must be accompanied by an adult. We cannot issue refunds to under 14s who are not accompanied by an adult.
Some or all of the items for this event require you to enter a promotional code.
Please enter your details below to buy tickets.
More information about Dreamland Variety: Silver And Sequins tickets
Please note that this event does not take place during the park's standard opening hours. If you wish to attend the park during the day (ahead of the show), you will need to leave the park at closing time and re-enter for the event. You need to use your event ticket to re-enter.

Dreamland Variety is like unlike any other variety show - combining popular culture, nostalgic Saturday night TV gameshows and cabaret to give you the ultimate mix of guilty pleasures and great top quality performance.

Brigitte Aphrodite is going to be your host for the evening surrounded by all things silver and sequins to support our Charity Partner, Volunteer Bureau.Headlining is Dave Benson Phillips with GET YOUR OWN BACK where 4 lucky contestants will have the chance to get gunged in silver slime! We encourage you to dress in everything silver and sequins and there will be prizes for the best dressed/worst dressed - so try hard, or don't, either way you might win!